2018 was a good year for my family, the lengthening of my beard, exposing more people to Spanish Colonial tinwork, and San Joaquin Punched Tin as a business.  I was able to participate in the art community here in Bakersfield in their monthly First Friday Art Walk.  I also had a showing for a month at the Kern Arts Council also located in Bakersfield.  https://kernarts.org/ .  There were three Arts and Crafts shows that I participated in also.  I have a permanent display at a fantastic gallery here in town.  It is full of art by local artists and I highly recommend visiting if you come to Bakersfield.  It is called Icehouse Framing and Gallery:  https://www.facebook.com/icehouseframing/.  The tinwork continues to be well received here in the Kern County. 
I have always, and continue to love educating people about tinwork.  This art form is not seen in California very much, but there is a deep Spanish Colonial history in the state.  When I describe my artwork to Californians, but I do not have a piece with me, or access to the internet to look at my website, I talk about the tin and punches themselves.  I also say that if you were to go to one of the 21 California Missions, founded by Saint Father Junipero Serra, you would not notice my artwork, because it fits in perfectly with the  architecture, other artwork, and religious tones of the mission.  See:  http://californiamissionsfoundation.org/the-california-missions/ .  
First Friday Art Walk in Bakersfield: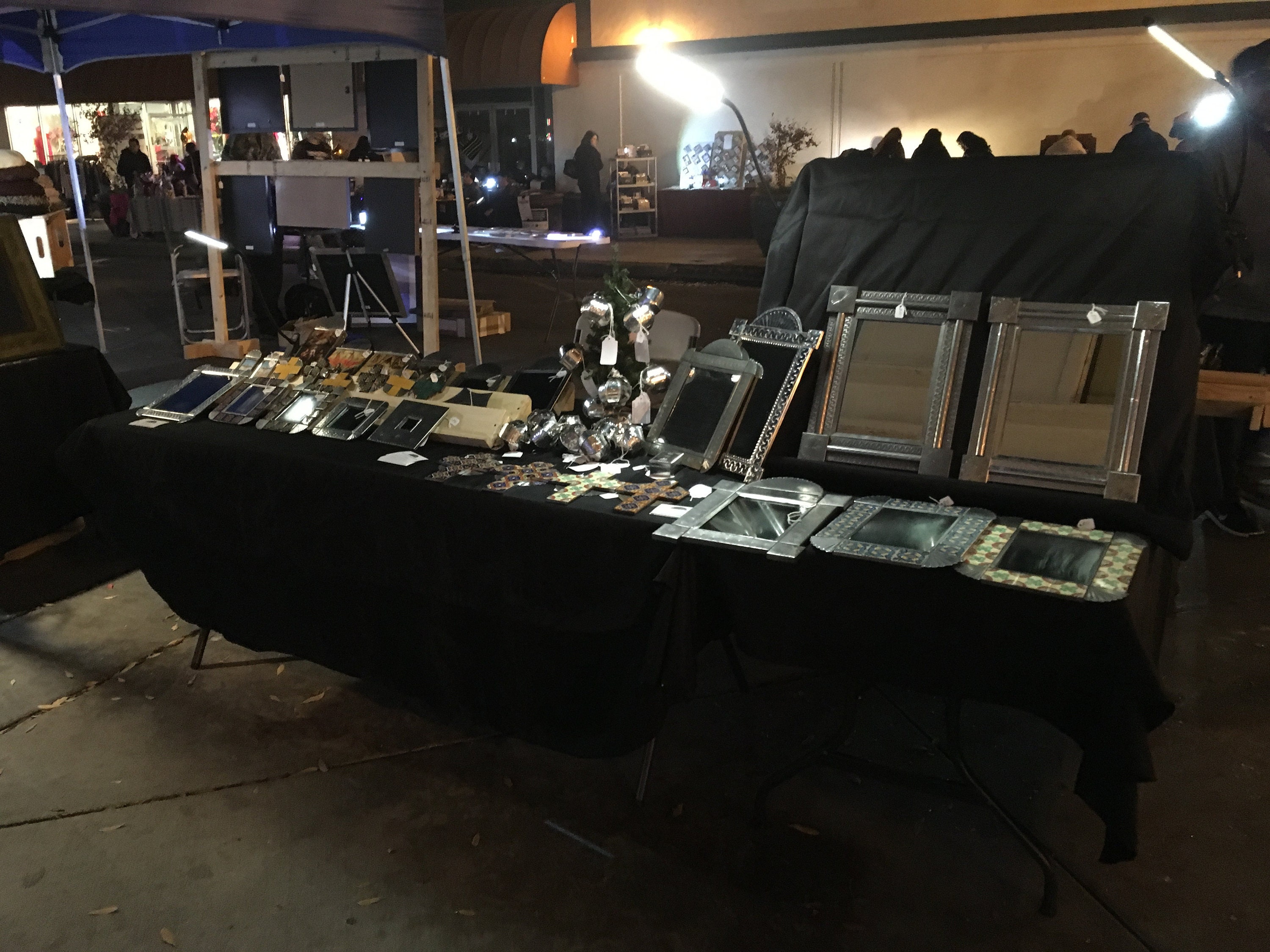 Kern Arts Council Showing (for the record, I did not choose the wall color):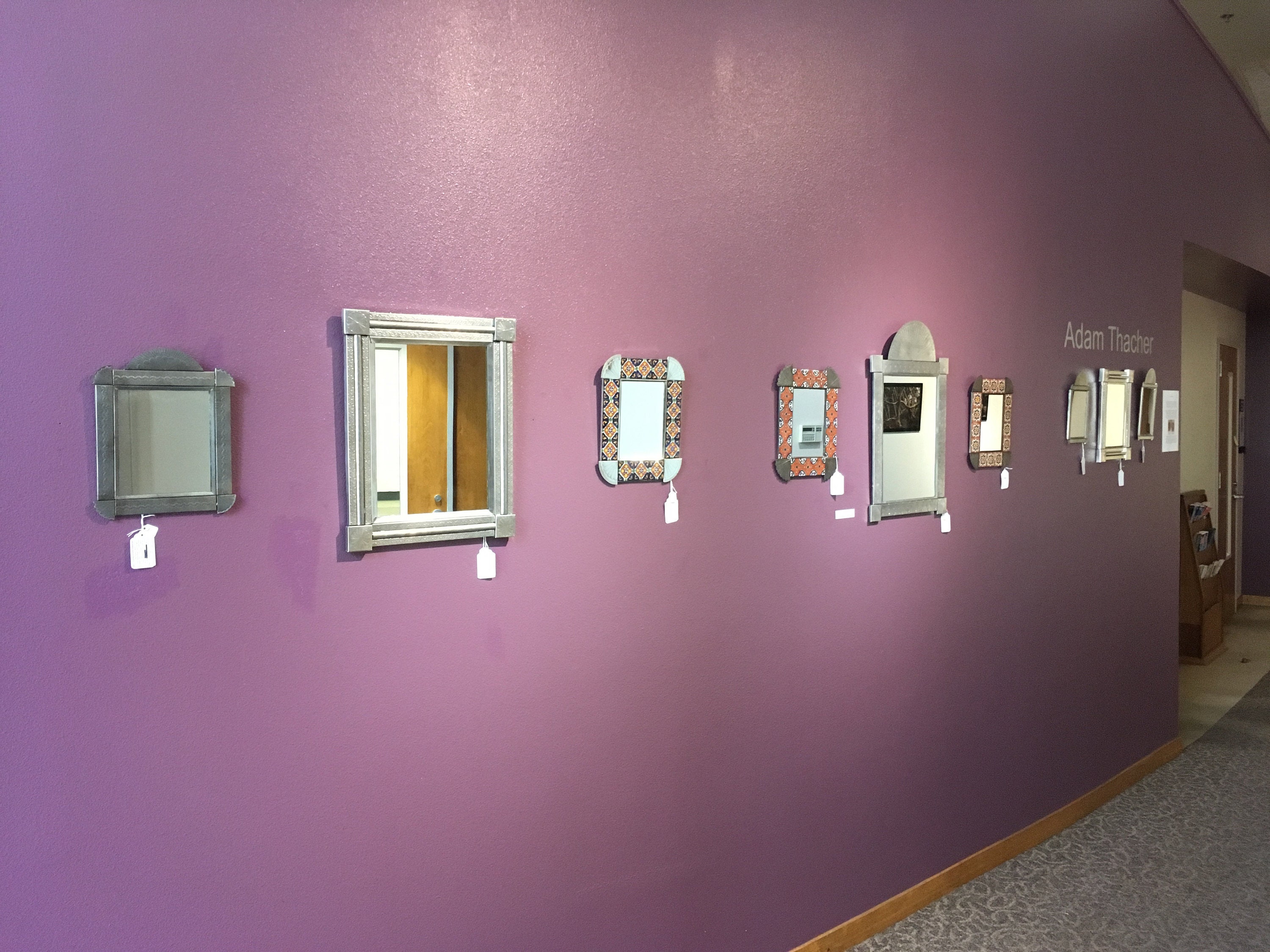 Also In 2018, I had several requests to make custom pieces.  Some were larger mirrors, others were icons that were painted, and that artist asked me to frame them in tin.  They turned out very well.  The icons were painted in a Byzantine or Greek style, the tin complimented them well though.  Traditionally in New Mexico, any origin holy card or icon could be framed, so to me, because of my research of the art form, they match very well with the tin.  The best match though is New Mexican or Mexican devotional art.  The styles of the paintings and the tin frame match perfectly, mainly because they evolved together in their styles.  
Tin frame around a Byzantine style icon of Our Lady of Perpetual Help by a local Bakersfield Artist: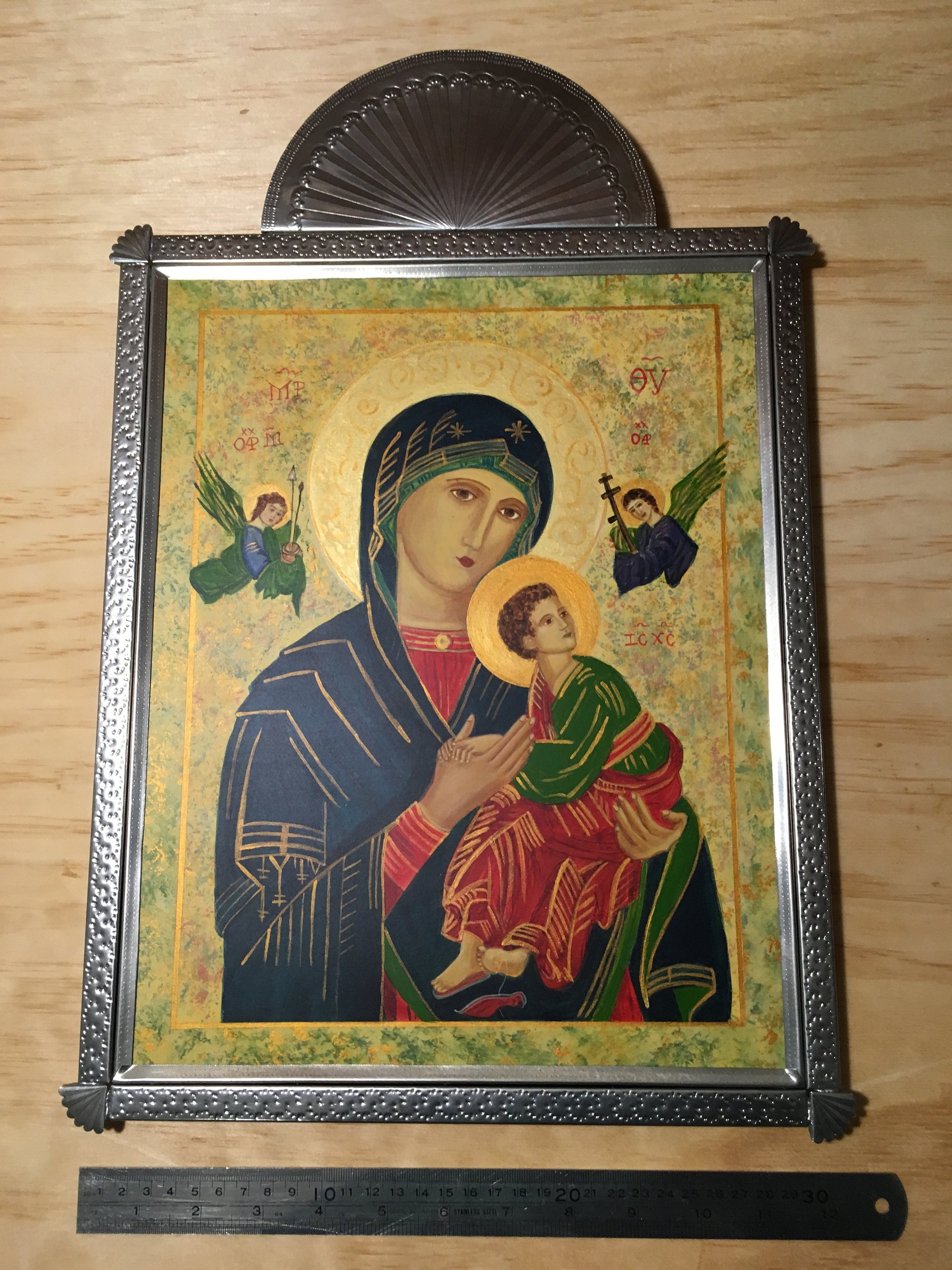 Tin frame around a triptych of icons by a the same local artist.  Mary, Jesus, and John the Baptist: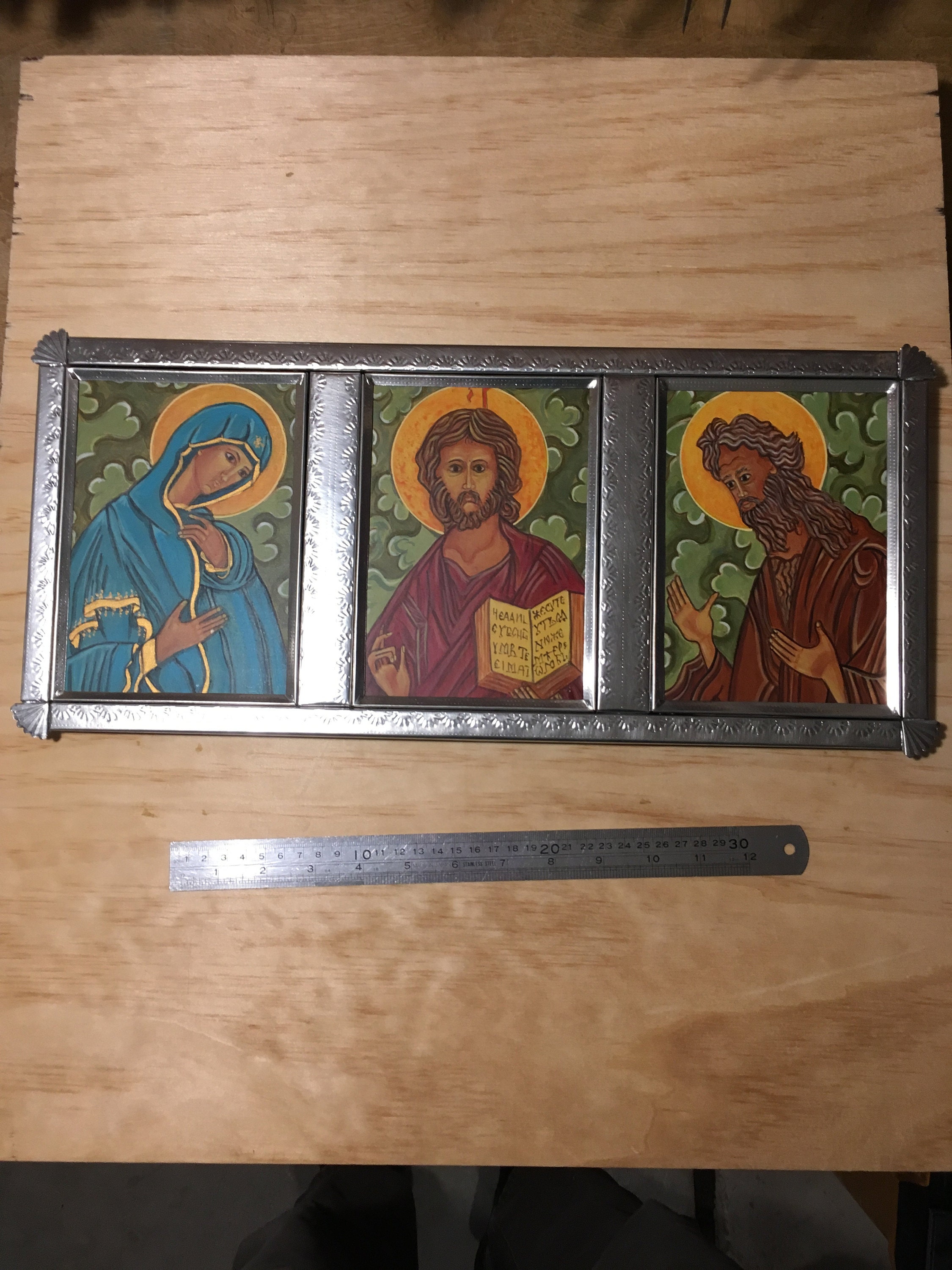 Tin frame around a painting by a Bakersfield artist of a gaurdian angel: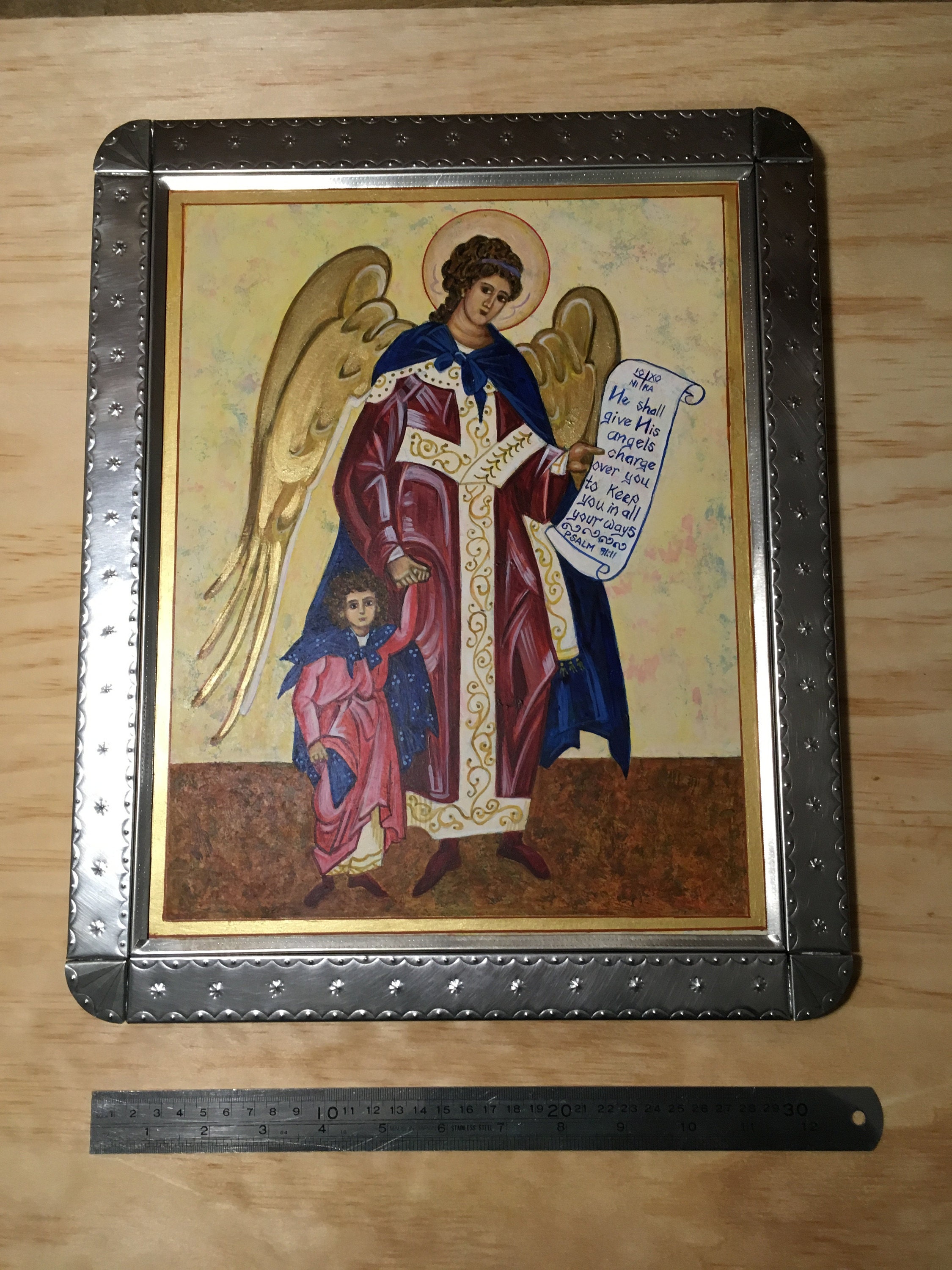 Large custom tin mirror: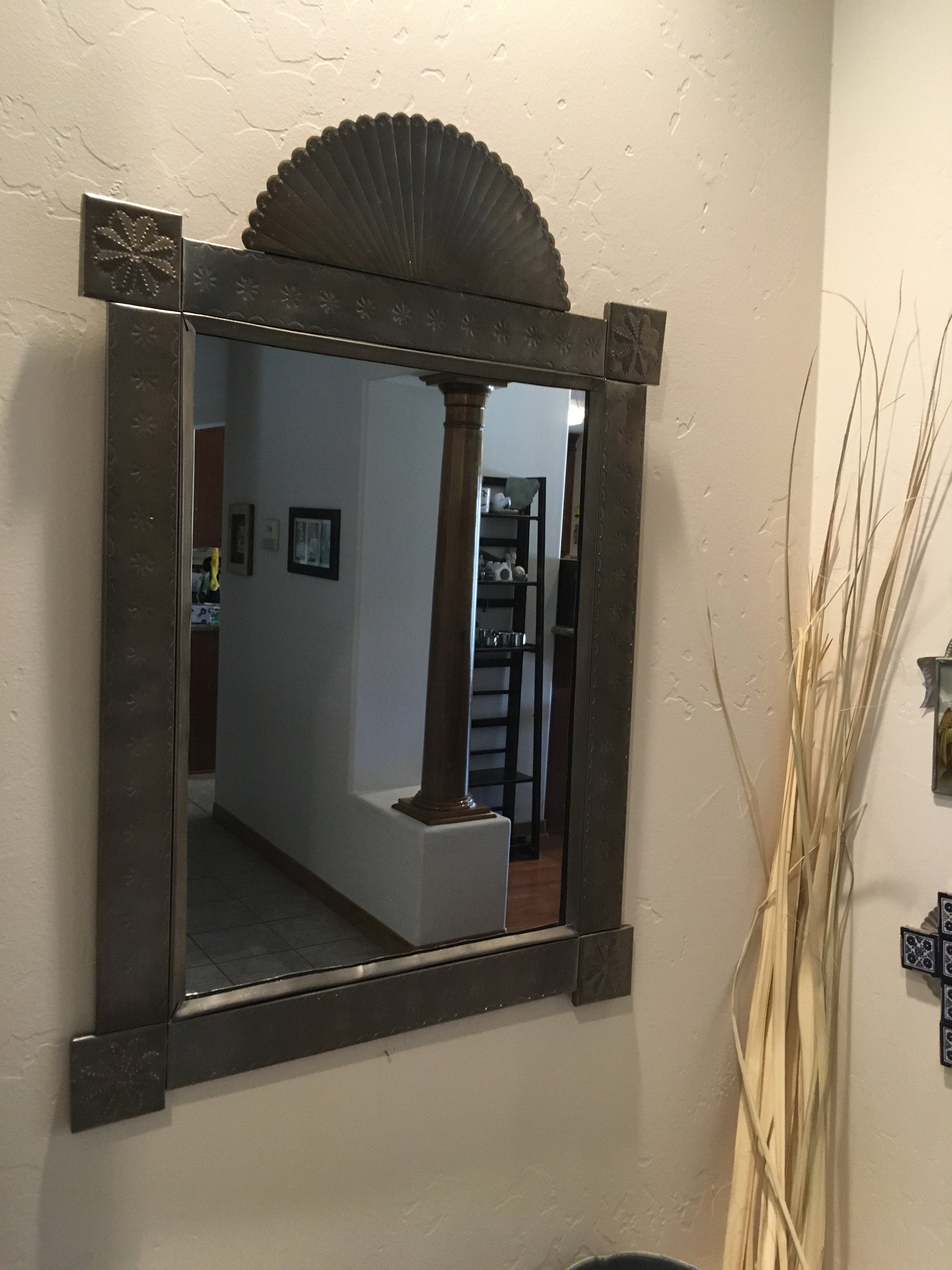 An example of Mexican devotional art.  I bought this print of a painting from the 1800s of Saint Michael, then decoupaged it to a wood board, then framed it with punched tin: